When you borrow books
Your library account will have a limit on the number of items you can borrow at the same time, this limit is set by your university.
The books you have borrowed will automatically renew on your account unless someone else places a reservation on them.
If the book is reserved by another user you will receive a recall notice via email asking you to return the book by the due date shown on your account.
If you do not return a recalled book we will assume it has been lost and you will receive an invoice for the full cost of a replacement book. 
Please ensure you regularly check your library account. If you notice any issues, contact us as soon as possible by emailing dhlhelp@medway.ac.uk
Payments for lost or damaged books can be paid online. Please visit your university website.
The taking of photographs or filming is only permitted with the permission of the Library Manager or their designated representative. Before visiting the library with the intention to film or take photographs, you will need to make a request for permission.
Requests for permission should be submitted at least five working days in advance. While we welcome applications, we must consider the needs of our users to study in a quiet and undisturbed environment.
You will be required to complete an application including a risk assessment in order for your request to be considered. This is an essential part of our record keeping and forms an integral part of our health and safety and duty of care requirements and our space management process.
For more information regarding our application process please email dhlhelp@medway.ac.uk.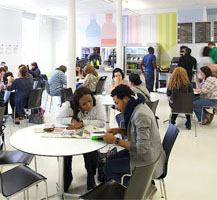 The Archibald Hay Mess is our popular café area. Here you can purchase and eat a variety of hot and cold food during term time. There are also microwaves available for heating your own food.
Hot food is not permitted within the library so please only consume hot foods within the cafe area. 
This facility is usually closed out of term time but there are vending machines for snacks and drinks available when the cafe is closed.
New members, please check the details of each scheme details using the link below before visiting.
Current membership schemes
Alumni
Clinical Access
Public Access
Sconul Scheme
The Postgraduate researcher room DC105 on the first floor of the library provides a dedicated space for all Medway postgraduate researchers in which to study, network, practice presentations or meet those with similar research interests.
With its combination of sofas, study tables, dual screen PCs and a collaborative IT enabled workspace it provides a flexible space to meet your study needs.
Opening hours are: Monday-Friday: 08:00-19:00 Weekends: 09:00-17:00
University Student Support Teams
Each of the Universities at Medway institutions has a student support team. To find out what they can do for you check their webpages.
Parking
Blue badge holders are automatically allowed access to the car park without a university parking permit. Designated parking bays are to the left of the main entrance and you must display your blue badge on your dashboard.
Lifts
Lifts provide access to the mezzanine study levels and first floor study rooms. Please ask reception if you need access to A block teaching rooms.
Toilets
Accessible toilets are located throughout the library.
Computers and Software
We provide a range of hardware and software to support access to our systems. For example the group zone has 8 accessible and height adjustable desks, one of which has a large format screen and keyboard. In software all of the Microsoft Ease of Access features have been checked.
Our Family Study Room is located on the ground floor of the library in room DC016 and can be accessed from the Group Zone.
The maximum room capacity is 3 adults and up to 9 children.
Students and staff of the Universities at Medway bringing children (under 18 years of age) into the library with them must sign in at reception and ensure that they comply with the Library Rules and Regulations and Terms of Use for the Family Study Room. 
Parents with children may also use the Group Zone, but must not use their university login to log children onto any of the library's PCs.
The library is accessible to students with children 7 days a week.
Monday-Friday: 08:00–19:00 Weekends: 09:00-17:00
These rooms provides an ideal space to practice your presentation skills. 
DA004 and DA005 can be booked during Monday to Friday 09:00-17:00 in two hour time slots by visiting our Reception desk or by emailing dhlhelp@medway.ac.uk or calling 01634 883878.
Occupancy of these rooms are limited to 20 students at any one time and are for Academic use only.
DA002 is an Open Access Study room so is available Monday to Friday 09:00-17:00 on a first come, first served basis with no need to book. It can hold up to 3 separate groups of 6 students